If you are considering buying a horse or a pony from a family pet to an elite animal, protect your investment with a pre-purchase examination.
A pre-purchase examination allows you (the buyer) to understand the health and fitness of the horse, and to identify conditions which may affect the horse's ability to undertake the activity you intend for the horse. Knowledge is power, and by knowing what you are buying, you will be able to enjoy your new horse with few surprises.
Perth Equine Hospital conducts prepurchase examinations, following the recommendations of the EVA. These include:
Basic health evaluation, including health history, temperature, pulse, respiration, general condition, and conformation.
Lameness assessment, including flexion tests and soft tissue palpation; and
Movement evaluation
After the examination is complete, additional diagnostics may be performed to further evaluate the horse. These could include radiographs, endoscopy and lameness location using the Equinosis Q. These all are additional features that you can add to a prepurchase exam at additional charge.
Following the examination, a detailed written report is issued listing the risk factors and making suggestions on future management of any conditions noted during the examination. It is important to understand that a prepurchase examination is done on a horse for a specific purpose and for a specific client, and that a horse which suits one client may not suit another.
Perth Equine Hospital offers prepurchase examinations at the Hospital or at select and suitable properties. It is important to discuss your goals with the veterinarian prior to beginning the exam. Whilst a prepurchase exam is not intended as a warranty or insurance policy, they can expose health concerns not apparent to the untrained eye. Even a free horse is worth getting an examination done on. Those few hundred dollars you spend now may help to save you thousands of dollars in the future.
Final decision
The final decision to buy the horse, is that of the purchaser. The purchaser is more than welcome to ask as many questions of the consulting veterinarian as they require. All information obtained during the pre-purchase examination is owned by the purchaser who has requested the examination.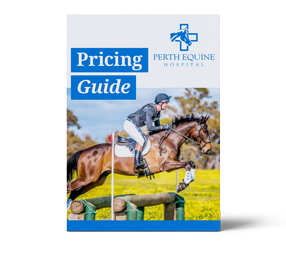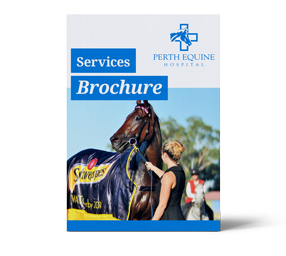 View Our
Services Brochure
View Our
17 Point Health Check